Basic Computer Course
Looking for Best Basic Computer CourseTraining in Chennai . BIX is the No.1 Best Basic Computer Course Training Institute in Chennai offering professional training. Call 955-111-0186
As we know, now it is a common thing for children and youngsters, yet some people are not well trained in using computers even for performing small activities. Particularly people like homemakers, senior citizens and those who are from the rural background, feels hard to cope-up with others in operating the system efficiently. So, our Institute decided to offer basic computer course to assist those people to understand and build their skills with computers surely.
This Basic computer classes provided by our center will enhance your basic computer skills in the best way. We will train from the introduction, parts of the computer such as hardware to software and also how to use it completely for your daily works. In this course, we will cover the fundamental skills. Also, the advanced skills to make you a better PC user. After completing Basic Computer Training you will be able to use any PC, Laptop or Tablet devices without hesitation. Join now and improve your computer skills to become an expert in using computers!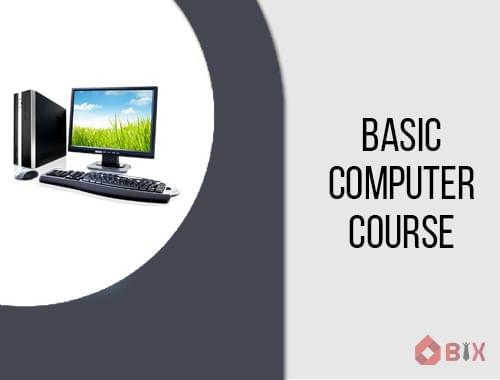 Course Objectives
10 Days with Flexible Timing.
2 hours/Day for Weekdays Batch.
4 hours/Day for Weekend Batch.
Live Instructor-led Online Training also available via Skype and Teamviewer.
Certification
The assessment will be done on the basis of an online test and Project Evaluation at the end of the course.
Weightage of Project Evaluation is 30% and that of Online test is 70%. Minimum pass percentage for online test is 70.
On completion of the Assessment (Project + Test) with a minimum of 70% marks, We will issue a certificate of successful completion.
Five re-attempts will be provided to clear online test in case the candidate scores less than 70%.
A Participation certificate will be issued if the candidate does not score 70% in the Assessment.
Soft copy of the certification will be issued to the participants, on completion of the course.
Pre-requisites
To join this course, the aspirant should have basic knowledge of Computers.
Faq
General questions
Who should join this course?
Who all want to explore the Computer basics.
Why should I join this course?
Knowing basic computers has become as necessary. The study includes Basic Computer Operations and uses. Whatever may be your field of interest, learning of Computer Basics is a must. Each person feels the need to use computers in their jobs. Operating Computers: Helps you learn necessary know-how & working on computers. MS-Paint: Gets you introduced with mouse controls like left click, right click, double click, drag & drop, etc. Notepad & Wordpad: Helps you know various keyboard keys & it's controls.
What happens if I miss a session?
If you have missed a session contact our support team where they will reschedule the missed sessions based on trainer availability.
Do you provide any study materials?
The study material will be mailed to you at the end of each session.
What is your refund policy?
Upon registering for the course, if for some reason you are unable or unwilling to participate in the course further, you can apply for a refund. You can initiate the refund any time before start of the second session of the course by sending an email to support@bixitacademy.com , with your enrolment details and bank account details (where you want the amount to be transferred). Once you initiate a refund request, you will receive the amount within 21 days after confirmation and verification by our team. This is provided only if your classes have not started.