DOT Net
Looking for Best ASP.Net Training in Chennai . BIX is the No.1 ASP.Net Training Institute in Chennai offering professional training. Call 955-111-0186 for Software Testing Training course details.
If you are interested in coding and want to establish a good career, you can approach some of the famous Dotnet training institutes in Bangalore. Developed by Microsoft, .NET is a Windows-based software that has a Common Language Infrastructure (CLI). This infrastructure allows you to use dotnet in a variety of applications to execute commands in the software environment called the Common Language Runtime (CLR). Dotnet includes both CLR and FCL (Frame Class Library) and executes commands with great accuracy and high speed. The various services provided by FCL are data base connectivity, web application development, user interface, data access, and numeric algorithms. This framework is also used in mobile applications. Windows OS is very popular for use with desktop systems. These days even smartphones designed with this operating system are being launched. All these will definitely create a demand for expert .NET programmers.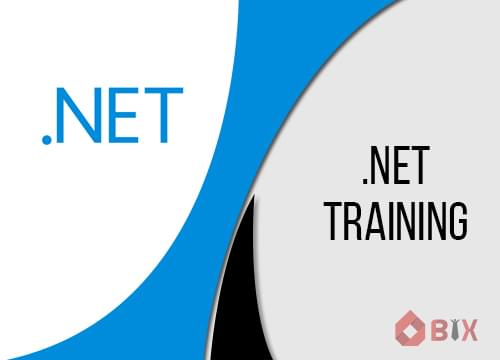 Course Objectives
The courses in our concern have been constituted towards the needs of current industry standards.
Learn Types of Applications and Probabilities of getting an error in an application.
Learn how to write effective & valid testcases.
Understand the real time project implementation process and flow.
Understand the SDLC & STLC process in depth.
Certification
The assessment will be done on the basis of an online test and Project Evaluation at the end of the course.
Weightage of Project Evaluation is 30% and that of Online test is 70%. Minimum pass percentage for online test is 70.
On completion of the Assessment (Project + Test) with a minimum of 70% marks, We will issue a certificate of successful completion from bix.
Five re-attempts will be provided to clear online test in case the candidate scores less than 70%.
A Participation certificate will be issued if the candidate does not score 70% in the Assessment.
Soft copy of the certification will be issued to the participants, on completion of the course.
Pre-requisites
To join this course, the aspirant should have basic knowledge of windows concepts.
Faq
General questions
Who should join this course?
Computer Science Graduates, IT Software aspirants who seek lucrative career in Automation testing.
Experienced Automation testers who need to enhance their testing skills with Selenium webdriver features and POM.
Software testing professionals in various roles ranging from Tester to Test Engineer.
Why should I join this course?
More than 10 Years of experience in Dotnet Technologies.
Has worked on multiple realtime Dotnet projects.
Working in a top MNC company in Bangalore.
Trained 2000+ Students so far.
Strong Theoretical & Practical Knowledge.
Certified Professionals.
What happens if I miss a session?
If you have missed a session contact our support team where they will reschedule the missed sessions based on trainer availability.
Do you provide any study materials?
The study material will be mailed to you at the end of each session.
What is your refund policy?
Upon registering for the course, if for some reason you are unable or unwilling to participate in the course further, you can apply for a refund. You can initiate the refund any time before start of the second session of the course by sending an email to support@bixitacademy.com , with your enrolment details and bank account details (where you want the amount to be transferred). Once you initiate a refund request, you will receive the amount within 21 days after confirmation and verification by our team. This is provided only if your classes have not started.
What are the minimum system requirements to attend the program?
Minimum system requirements for taking up the courses is LAPTOP alone.