Selenium with C#
Looking for Best Software Testing Training in Chennai . BIX is the Best Software Testing Training Institute in Chennai offering professional training on both Manual, automation testing training like Selenium, QTP/UFT and Performance Testing Training Courses like LoadRunner and JMeter. Call 955-111-0186 for Software Testing Training course details
The use of Selenium Webdriver is to basically test any web application.WebDriver is a automating web application testing tool. This provide APIs that easily integrate with any programming language such as C#, java, python.Create a Selenium Webdriver framework from scratch using C#; Master C# for Software Automation Engineers; Master how to use Selenium Webdriver; Learn how to use any identification mechanism to find an object on a web page; Create extremely reliable and stable automation tests
The course first covers C# concepts Selenium IDE followed by Xpath, Object Identification and Webdriver, using TestNG with Eclipse, Automate build process using Apache Ant. Use multiple machines to run tests in parallel by the help of Selenium-Grid. Make your code reusable using Page Object Model - an Object Repository design pattern in Selenium WebDriver. Optimize way to create object repository in POM concept using Page Factory.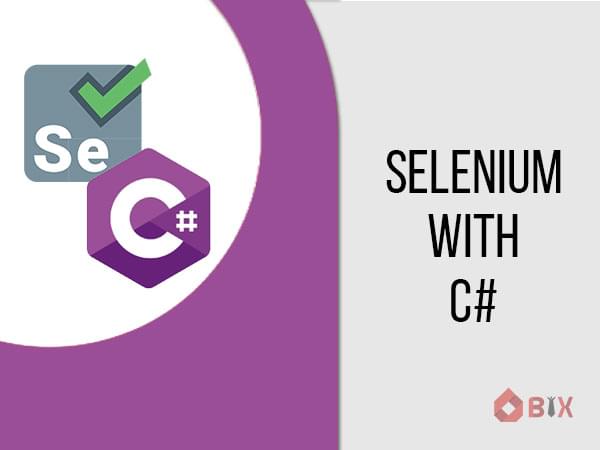 Course Objectives
Learn automation in testing of different popular web browsers and for Mobile applications.
Understand concepts of Xpath, Object Identification and Web driver.
Learn to code the scripts for parallel simultanous testing of various applications.
Execute the Selenium test case in multiple browsers.
Practice to integrate Test NGN Framework with Selenium to generate reports.
Harness features of Page Object Model for reusable automation test scripts.
To automate the build process using Apache Ant - a software tool for automating software build processes.
Performing the multiple tests using multiple machines to run tests in parallel manner with the help of Selenium-Grid.
Learn with optimized way to create object repository in POM concept using Page Factory tool.
Certification
An assessment will be Evaluated on the basis of an online test and Project performance at the end of the course.
Performance of Project Evaluation is 30% and that of test is 70%. 50% is the Mandatory minimum score in online test is required.
On completion of the Assessment (Project + Test) with a minimum of 70% marks We will be issued a certificate of successful completion from BIX.
re-attempts will be provided to clear online test, in case of the candidate scores less than 70%.
A Participation certificate will be issued, if the candidate does not score above 70% in the Assessment.
A Soft copy certificate will be issued to the participant, on completion of the course.
Pre-requisites
To join this course, the aspirant should have basic knowledge of C#.
Faq
General questions
Who should join this course?
Computer Science Graduates, IT Software aspirants who seek lucrative career in Automation testing& Domain based testing. Experienced Manual testers, who need to enhance their testing skills with ETL Testing for business improvement.
Why should I join this course?
Many companies estimate they're analyzing a mere 12% of the data they have said by "Forrester Research" Big Data Analytics to reach $13.95 Billion investment by 2018 – Markets and Markets ETL Developer in United States can earn upto $100,000 – indeed.com Today's businesses have to work with data in multiple formats and it is extracted from multiple sources. All this makes ETL testing all very the important. An Etract, transform and loading of data has to be verified and any anomalies found have to be fixed. Thus there is a need for testers in ETL and Data Warehouse domains. This training can equip you to take up good jobs in some of the biggest companies in the world.
What happens if I miss a session?
If you have missed a session contact our support team where they will reschedule the missed sessions based on trainer availability.
Do you provide any study materials?
The study material will be mailed to you at the end of each session.
What is your refund policy?
Upon registering for the course, if for some reason you are unable or unwilling to participate in the course further, you can apply for a refund. You can initiate the refund any time before start of the second session of the course by sending an email to support@bixitacademy.com , with your enrolment details and bank account details (where you want the amount to be transferred). Once you initiate a refund request, you will receive the amount within 21 days after confirmation and verification by our team.This is provided only if your classes have not started.